By Aaron Wilson
An ancient refuge that famously hid David from King Saul has itself been hidden for years to scholars—until now.
Researchers have recently found evidence of the biblical city of Ziklag at Khirbet al-Ra'I, an excavation site in the Judean foothills of Israel. Carbon dating and artifacts from the site have prompted scholars to link the site to the 3,200-year-old Philistine town.
Renowned archaeologist Yosef Garfinkel of Jerusalem's Hebrew University told United Press International that while the recovered artifacts don't provide absolute certainty the site is Ziklag, he's about 90% sure they've now identified the location of the famous biblical city.
Ziklag is featured proximately in 1 Samuel 27 as the location where David and his band of 600 fighting men and their families settled to escape King Saul's relentless pursuit. According to Scripture, David's men resided in the Philistine territory for a year and four months until the death of Saul. During this time, David used Ziklag as a base to raid neighboring lands.
The city is also mentioned in the biblical books of Joshua, 2 Samuel, and 1 Chronicles. Later in the Bible, in Nehemiah 11, Ziklag is also referenced as being a farming settlement for Jews returning from Babylonian captivity.
Prior to this find, several possible locations for Ziklag have been suggested—and consequently rejected—over lack of evidence of settlement continuity from a Philistine to Jewish inhabitance. But at the Khirbet al-Ra'I site, researchers claim to have found evidence of both settlements.
Dozens of reconstructed pottery vessels such as jars and food bowls have been recovered that model decorative styles typical of the Davidic era. Meanwhile, buildings and artifacts characteristic of Philistine civilization have also been discovered at the site.
There is also evidence that a widespread fire laid waste to the area at one point. The Israeli Antiquities Authority reports that, "This settlement came to an end in an intense fire that destroyed the buildings."
The author of 1 Samuel 30 records that following a failed assembly with the Philistine army, David and his men return to Ziklag to find it burned by the Amalekites. In response, David's army attacked and defeated the Amalekites.
From Ziklag, David then used the plunder to provide gifts to the elders of Judah in a move that helped establish his future acceptance as king.
"This is indeed an exciting find that further bolsters our confidence in the trustworthiness of Scripture," said G.B. Howell Jr., editor for Biblical Illustrator.
"Those who study biblical archaeology are very careful not to say that a particular find proves the Bible. Amazingly, though, archaeological sites and artifacts consistently reinforce and support the accuracy and reliability of the biblical record. These new finds at Ziklag certainly fall in this category."
AARON WILSON (@AaronBWilson26) is associate editor for Facts & Trends.
Dig Deeper at LifeWay.com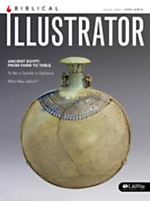 Discover articles, portraits of Bible lands and people, maps, and archaeological finds
FIND OUT MORE